Chloe Lowery
Vocalist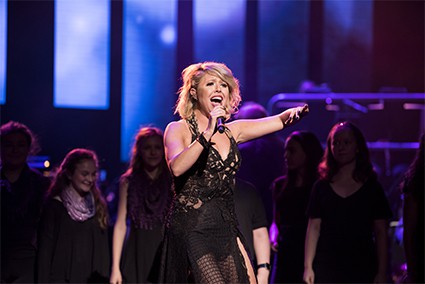 Even if you don't recognize Chloe Lowery's name, there's a very good chance that you know her voice. Although she's currently preparing her first release under her own name, her prodigious talents have made her a go-to voice for a wide variety of high-profile acts, allowing her to perform in front of large crowds in some of the world's most prestigious venues.
Lowery's commanding, exquisitely powerful voice is equally at home singing classical or classic rock. She's performed since 2010 as featured vocalist with the recording and touring powerhouse Trans-Siberian Orchestra, and is about to begin a run on Broadway as part of the classic-rock theatrical extravaganza Rocktopia. She's also recorded and toured with beloved keyboardist/composer Yanni on his landmark Yanni Voices album and tour, performed with renowned jazz trumpeter Chris Botti, has been a soloist with the New York City Ballet, collaborated with noted hard-rock guitarist Joel Hoekstra, and even stepped into Janis Joplin's shoes to tour with her legendary band Big Brother and the Holding Company.
When not working with those acts, Lowery has found time to pursue her own musical muse, writing and recording some highly personal original material for her much-anticipated debut solo release. While her collaborative efforts have shown her to be a world-class performer, Lowery's own powerful songwriting makes it clear that she's a vital creative force in her own right.
"In some respects, I'm just starting out, but I've accumulated a massive amount of experience," she reflects. "I'm thankful for having the opportunity to perform so many different kinds of music, because that's helped me to understand what kind of music I want to make on my own. My own music is pop, but it's sophisticated and personal. I really care about making an emotional connection, and I feel like that's what I have to offer as an artist."
Chloe Elaine Lowery was born in Largo, Florida, and first felt the urge to perform in early childhood. She began voice lessons at the age of seven, and was soon singing and dancing at public events with a local performance troupe. She was just 12 when she signed her first recording deal, with RCA Records.
"This was around the time that Britney Spears and the Backstreet Boys were coming out, and labels were handing out deals like they were candy," she recalls. "When I first was signed, they were signing a lot of young girls, and they had me singing Britney Spears-type songs. I wasn't really interested in singing that type of material, but I used my time at recording sessions to really absorb the recording process. I received an education from working with major songwriters like Diane Warren and Desmond Child. I learned how to craft songs, and I learned what engaged me musically. Working with some of the greats really showed me what was possible, and the experience taught me how to be a storyteller."
While signed to RCA, Chloe did a great deal of writing, recording, and performing. But ultimately, her album was shelved in the wake of a staff shakeup at the label. Rather than seeking another deal, she chose to go back to school, where she honed her budding theatre skills. But Chloe's talents would not be denied, and before long she was being sought out by a variety of touring acts, beginning with Big Brother and the Holding Company, and for some prominent recording projects, beginning with Yanni's Yanni Voices album. The Yanni project led to another record deal, this time with Disney, but that association proved a bad fit, and Chloe instead began her long and productive association with the Trans-Siberian Orchestra.
Now, with a decade of stellar musical work under her belt, Lowery is preparing the release of her first collection of self-penned original material.
"The record that I'm working on now, I wrote it myself, and I made all of the creative decisions myself," she explains. "In the past, I'd always been dependent on other people to help me write and produce material.  But this time, I knew what I wanted and I didn't want to compromise. Sometimes it's helpful to have another opinion in the room, but I think this is something I needed to go through, to show myself that I can do it on my own."
Having absorbed a lifetime's worth of insight from her experiences, Chloe Lowery is ready to enter a new phase of her musical life.
"I've learned how to weather the storm and stay true to the vision that I have for myself," she asserts, adding, "From where I started to now, the industry has changed immensely, and I've had to adjust accordingly. I've learned a lot about being in this for the right reasons. I want people to hear the real me, for the first time. All I've ever really wanted was to stand on my own two feet with my own music. I want to make music that is honest and inspires. I want people to walk away feeling changed."