Máiréad Nesbitt – Touring Artist
Violinist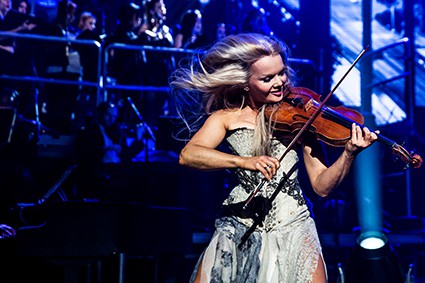 As a Grammy and Emmy nominated artist and composer, and founding member of the global phenomenon Celtic Woman, Máiréad Nesbitt has enchanted millions of fans around the world. Featured Celtic Violinist on all 11 Celtic Woman albums each achieving #1 slot in the Billboard World Music Chart.
Former All- Ireland fiddle champion, past member of the National Youth Orchestra of Ireland, she completed her studies at the CIT Cork School of Music and at the London Royal Academy.
Cited by the New York Times as "a demon of a fiddle player", Máiréad has two Billboard Charting solo albums in World Music, Classical Crossover, Classical and Heatseeker Charts to her credit , Raining Up and her new solo album Hibernia. She is also guest violinist and composer on many award winning cds with international artists.
In 2017, Máiréad also released the album Devil's Bit Sessions, charting in the Billboard World Music Charts. It explores the rich musical heritage of the Nesbitt Family.
A past member of the RTÉ Concert Orchestra of Ireland , Máiréad has been guest soloist with orchestras in the USA & internationally including the City of Hong Kong Chamber Orchestra, The Berne Symphony Orchestra and The Atlanta Symphony Orchestra.
Máiréad has also launched her own violin line, Máiréad Nesbitt Celtic Violin Collection which is now available on www.maireadnesbittviolin.com and from select stores in the USA and Ireland.
Having performed for three US Presidents at The Whitehouse and The Pentagon, Máiréad has performed in iconic venues worldwide including Radio City Music Hall, Carnegie Hall, Red Rocks Colorado, and Hyde Park.
Máiréad was guest soloist at Carnegie Hall Dec. 1st, 2017 for a concert with renowned artists Syblle Szaggers Redford and the Tim Janis Ensemble for The Way of the Rain.
Máiréad makes her Broadway debut at The Broadway with the show spectacular Rocktopia from March 20th, 2018 for 6 weeks.